7Series DESKTOP SCANNERS
Distinctive 3D scanning technology enabling the production of a wide range of dental indications.
find a reseller
Based on an integrated scan & design workflow with DWOS software, these distinct scanning systems are designed to meet varied and individual needs.

Featuring high-scanning accuracy, ergonomic, and functional advances for significant improvements in productivity and efficiency.
7Series Model & Impression Scanner
Delivering unprecedented performance and productivity.
Featuring remarkable scanning versatility, speed and accuracy, plus a wide range of prosthetic design applications.
High-precision scanning of both models and impressions.
An on-board computer with 64-bit processor.
High productivity through automatic scan and design wizards.
Automatic multi-die mode for up to 30 elements scanned and designed in 13 minutes, unattended.
Easy clinic-to-lab or lab-to-outsourcing communication with DWOS Connect.
SAM® SE articulator optional.
Certified by Straumann® (CARES® plug-in), 3M ESPE (Lava™ Milling Centers) and Dentsply Implants (ATLANTIS™).
Add additional DWOS applications as needed.
Select the SYNERGY or PRODUCTIVITY package.
DWOS modules
7Series SYNERGY
package
7Series PRODUCTIVITY package
Crowns & Bridges
Implant Prosthetics
Partial Frameworks
Full Dentures
*
Model Builder
Bite Splints
*
Orthodontic Archiving
*
Rapid Prototyping
Guided Surgery (in coDiagnostiX software)
*
*
*Optional modules that may be added as lab requirements evolve.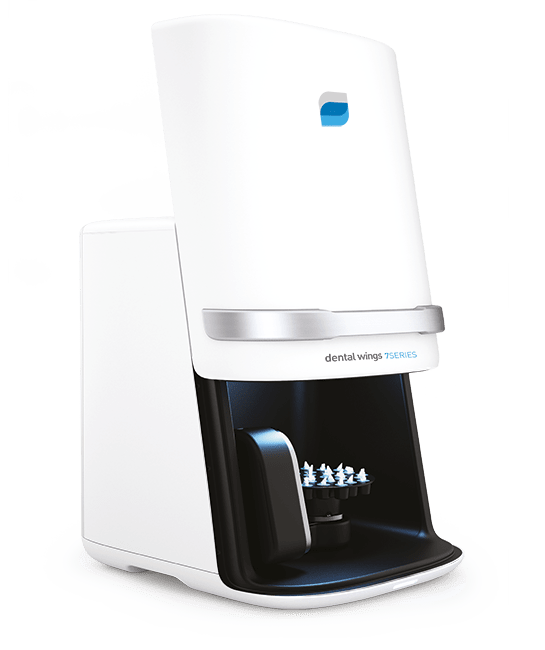 We've been using the 7Series Model & Impression scanner on a daily basis for several years. We can declare that this incredible machine changed our life. It includes three scanning devices in one and serves us as a door opener to every modern dental office in our region. Our lab is now able to design and produce a wide variety of prosthetic products of excellent quality. We can produce everything from a single coping to a complex implant solution.
7Series scan time now up to 25% faster!
New algorithms are being employed for meshing the scan clouds, which allow massive parallel data processing on a graphics card (GPU) instead of the main processor.
Available with software update DWOS 9
This new computation technology is available with DWOS 9, however, it requires specific hardware configurations using an NVIDIA graphics card with CUDA support. With an already-embedded new graphics card, the 7Series supports this new technology out-of-the-box.