DWOS CHAIRSIDE DESIGN SOFTWARE
The in-clinic dental restoration design software that allows for more time for communication and patient care.
find a reseller
DWOS Chairside is an open design in-clinic software solution that supports a wide range of indications. It allows for input and output of STL for third-party systems to provide compatibility with intraoral scanners, impression scanners and milling machines.
The chairside design of highly-aesthetic restorations has never been easier
Using latest innovative technology within an intuitive interface, and special design tools, DWOS Chairside software helps facilitate the design of multiple indications and restorations including inlays, onlays, full contour crowns, and veneers, as well as other indications such as implant abutments.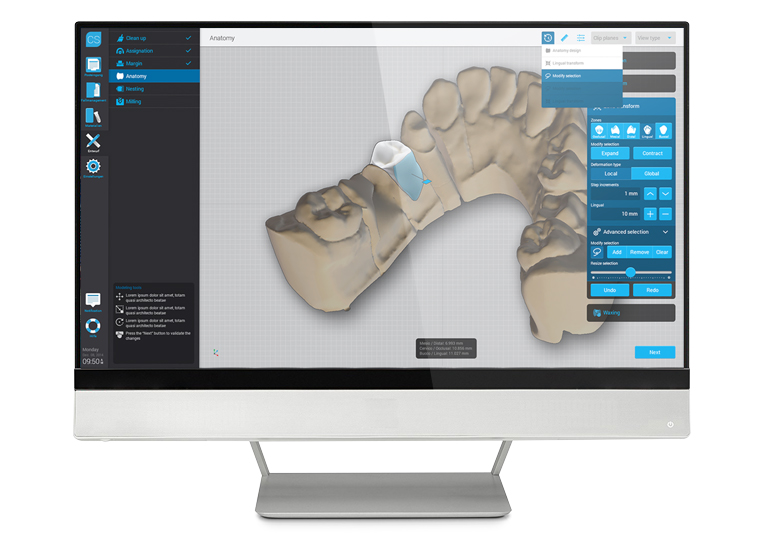 The stand-alone, open design software can also be combined with an intraoral scanner or impression scanner plus milling machine to create a complete in-office solution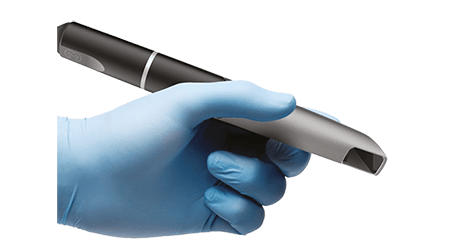 1 - Scan
Eliminate the unpleasant tray impression process for your patient with the convenient handpiece.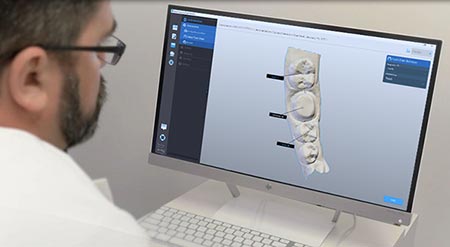 2 - Design
Quickly design an accurate restoration proposal with the user-friendly interface and special tools.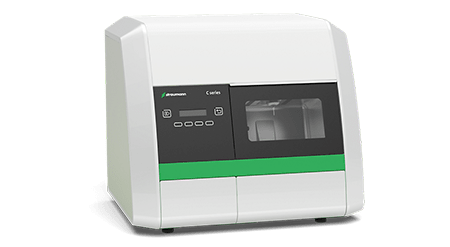 3 - Mill
Produce predictable precision using a variety of indications, restorative options, and materials.
DWOS Chairside offers a direct integration with the Virtuo Vivo™ intraoral scanner
DWOS Chairside is integrated with Virtuo Vivo™ for the direct exchange of case details, and other open intraoral scanners for exchange of impression data in STL, OBJ or PLY formats.
Order revision
Review and edit scans from the Virtuo Vivo™ intraoral scanner, iSeries impression scanner and other open intraoral devices. Optimize surfaces to obtain the optimal workflow.
Assignation
Quickly assign the preparation of the cases to detect any implants and fill technical data required by tooth-chain technology.
Margin
Automatic margin proposal on all elements type. Easily modify the margin and insertion access to obtain the best fit possible.
Automated proposals
Advanced tooth-chain technology computes the shape of the proposed restoration including anatomy, cusps, marginal ridges, and emergence profile, by analyzing and mimicking the anatomical features of the adjacent teeth. Occlusion is automatically computed from the antagonist teeth.
Nesting and machining
Simple and intuitive restoration block nesting for fast in-office milling preparation.
Milling
Depending on the machine output, select parameters and any connection possible and finish the workflow.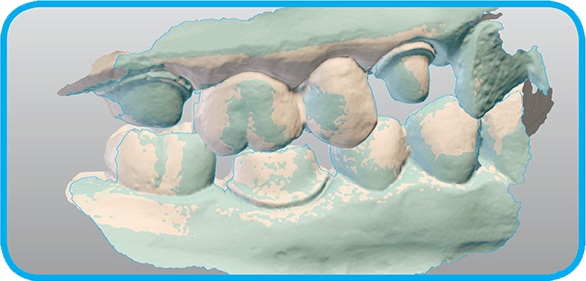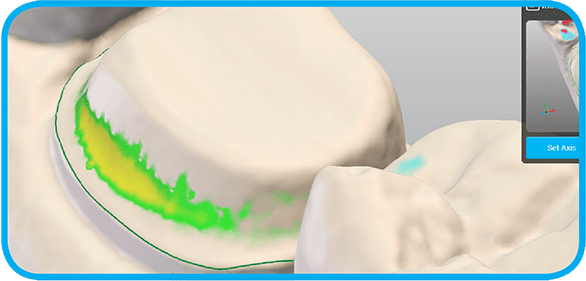 Automatic insertion that gives lowest undercut possible is based on the analysis of the case.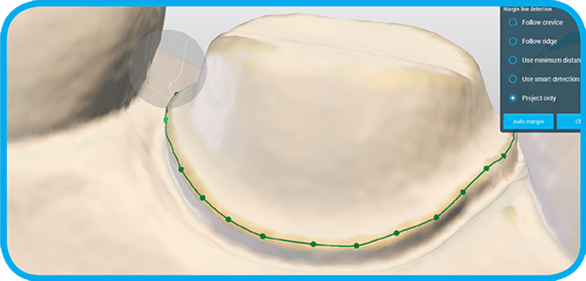 Clip profile and highlight of the margin.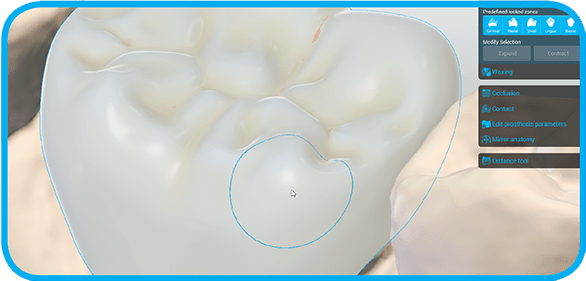 Morphological area deformation.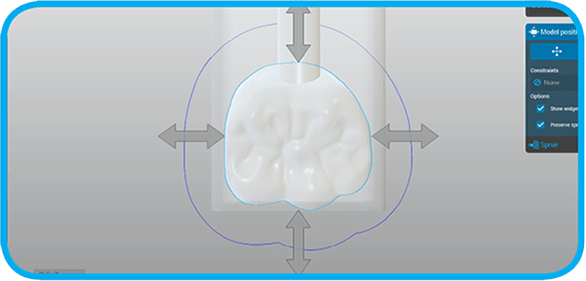 Integration with milling machines
Closing the loop for a complete and streamlined chairside workflow from scan to design to mill is intuitive CAM computation. This means that no other intermediate interface is required before milling of the restorations.
Milling output data is compatible with the most popular open chairside milling machines, including the vhf camfacture Z4 mill.