The new solution for lab managers and staff members designed to increase the efficiency and effectiveness of both digital and traditional workflows in dental labs of all sizes.
DWOS Lab helps simplify case management and data organization, and monitors the lab's activities so you get a complete overview in real time.
One-stop case management
Eliminate the need to migrate between different systems with one full cycle workflow cloud-based platform that manages your digital and traditional cases seamlessly and simultaneously.
The production dashboard displays current production load and flagged cases to warn of possible delay
Critical cases are monitored, and any outsourced cases are tracked
Workflows allow for any case-specific adjustments
Invoices are configurable and all shipments can be tracked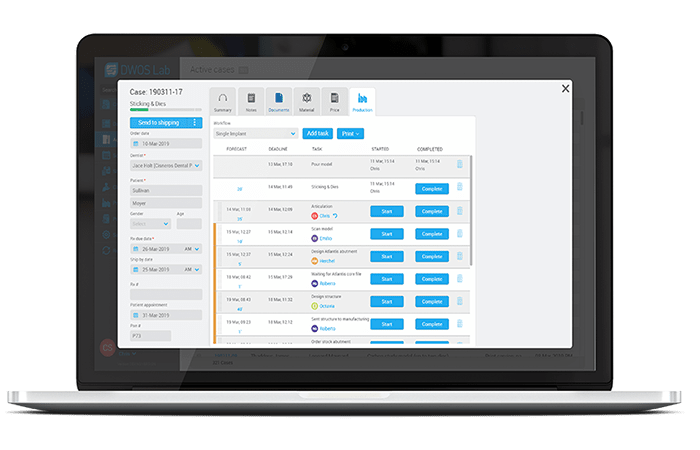 Dynamic schedules
Create dynamic schedules to see the current workload across the entire lab. As priorities and workloads change throughout the day, the master schedule and individual schedules will be updated automatically to optimize the overall throughput of the lab.
Enjoy easy access to a dynamically-updated list of tasks and cases in order of priority with details, notes, and documents.
Lessen the time it takes to track cases or to estimate which case to handle next.
Allow employees to focus on what they do best – adding important value to lab output.
Connect to DWOS CAD/CAM
Cases entered in DWOS Lab are automatically routed to DWOS CAD/CAM software. Case status is updated in DWOS Lab in real-time following the DWOS workflow.
Productivity-boosting tools
Scheduling tools, operations dashboards, and file management to and from dental partners are just a part of the power of DWOS Lab.
Real-time case exchange is integrated with Dental Wings products, and open to connect to any other CAD/CAM process.
Production time is reduced due to easy and quick access to data and timetables.
Case information is exchanged automatically to help eliminate double entries and errors.
Customer portals simplify communications with dentists.
Data management systems
Unique Lab-Kanban methodology minimizes shelf-time between tasks.
Automatic flags and scheduler warn of impending delays.
Prioritize employee tasks when needed.
Output of travelers (case document), shipping documents, and invoices are significantly simplified.
Performance dashboard
Get a continuous overview of the most relevant data to help improve efficiency and effectiveness, and monitor individual workstation level activities and overall operations through key performance indicators.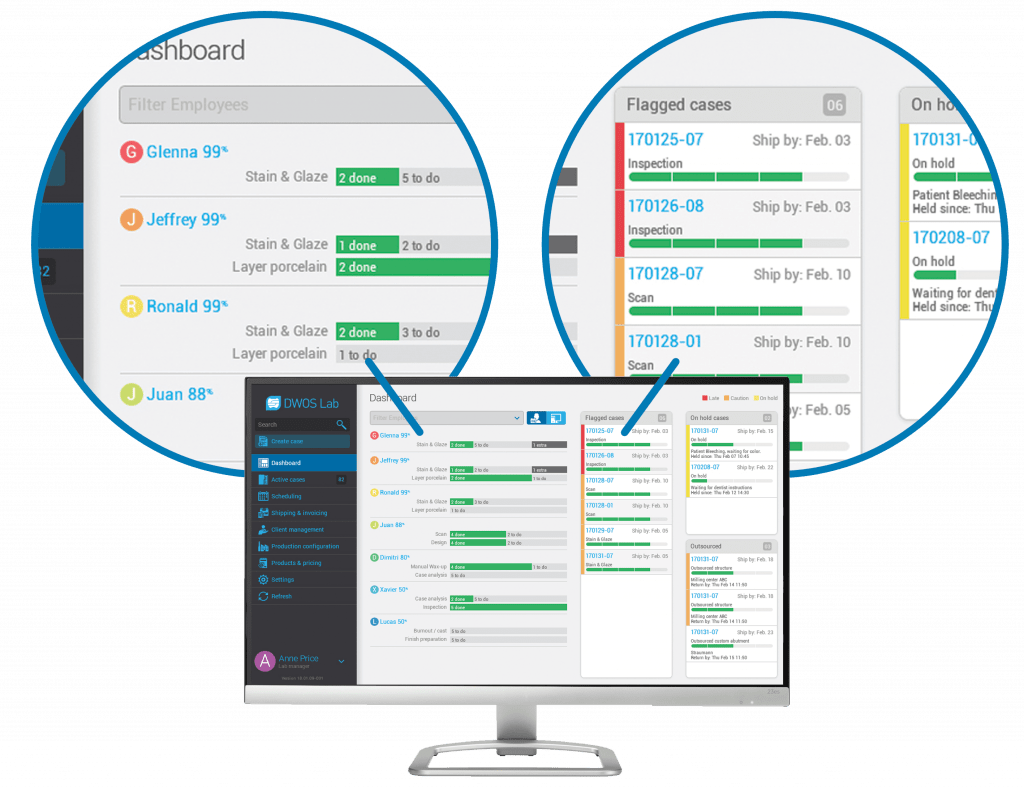 Reduced production time and increased productivity
Based on the manufacturing industry's proven Kanban methodology, Lab-Kanban improves productivity through dynamic worksheets and schedules that synchronize with any changes in case information and priorities.