coDiagnostiX 9.12 – Software Update
The Dental Wings team is pleased to announce that a new update for coDiagnostiX is now available. coDiagnostiX 9.12 has been published in Germany, Austria and Switzerland. Remaining countries will follow step-by-step.
Improvements offered with coDiagnostiX 9.12
Interactive introduction & Help
It is now easier for new users to get started.
After the installation of the software, an onboarding wizard is launched which describes the basic concept of the start screen and explains the difference between EXPERT and EASY modes.
The EASY mode now offers detailed step-by-step instructions for each workflow task.
New license options
In addition to the traditional CLIENT and PRODUCER licenses, version 9.12 offers attractive license modules that are tailored to the needs of specific target groups.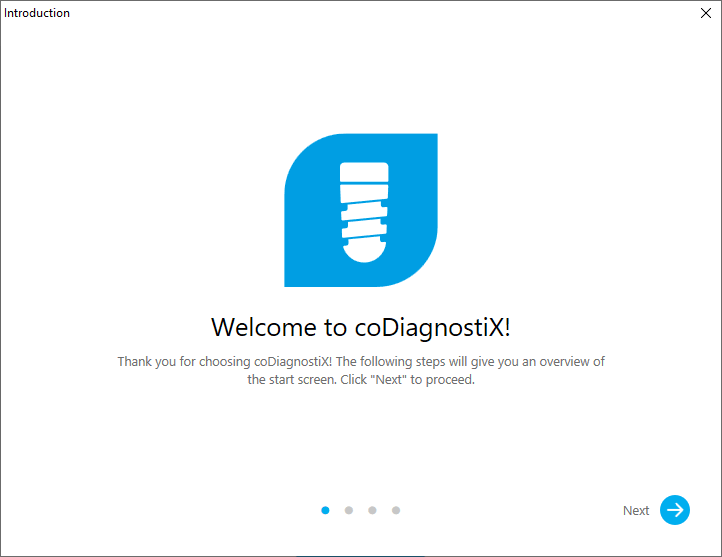 coDiagnostiX EASY
coDiagnostiX EASY is ideally suited for clinicians who outsource services to a laboratory or planning center. coDiagnostiX EASY is fully dedicated to the new EASY mode, without access to the EXPERT mode, and is offered at a lower price than the regular CLIENT license.
coDiagnostiX EASY CHAIRSIDE
coDiagnostiX EASY CHAIRSIDE is ideally suited for clinicians who own a 3D printer and want to produce a limited quantity of guides in-house. The software is offered as a service in the form of a monthly subscription model, which includes three dataset exports every month.
Sleeve Systems
Support for the Straumann VeloDrill sleeve system has been added, including a detailed surgical protocol.
Users of the Neodent Grand Morse sleeve system can now output a surgical protocol.
For the Japanese market, support for the YDM sleeve system has been added.
Download and Documentation
The latest software version will be automatically distributed through the coDiagnostiX online update.
Many thanks to our user community for bringing issues to our attention helping us quickly identify root causes. If you experience any specific issues with our software, please contact us.