coDiagnostiX 9.14 – Software Update
The Dental Wings team is pleased to announce that a new update for coDiagnostiX is available since December.
Improvements offered with coDiagnostiX 9.14
The loading speed of the implant selection dialog has been significantly improved.
A new printout has been added to allow users more customization options. It contains all images stored in the Image Management for a particular patient.
Automatic positioning of lateral pins
When a lateral pin is added to a tooth position, it is now automatically placed at the selected tooth position and tilted at an angle. This ensures that the pin is in the best position to start fine alignment.
In addition, pins are now assigned an undefined number (XX), to prevent them from blocking the tooth number for implants.
New in EASY mode: Distance measurements and segmentation slider
It's now possible to measure distances in the implant alignment step in EASY mode. This function was previously only available in EXPERT mode.
In addition, the Dataset Preparation step in EASY mode now features a segmentation threshold slider. It allows users to optimize the appearance of their 3D reconstruction from scan data more easily.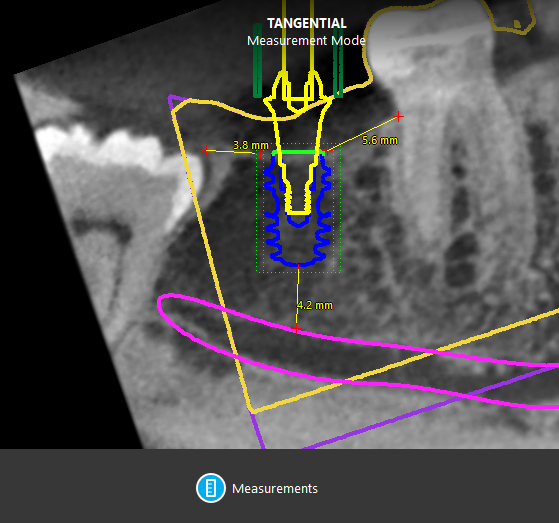 Bugfixing
Improved performance of the surgical guide designer.
Fixed a rare problem, where customers with a Producer license were unable to read datasets sent to them by locked clients.
Download and Documentation
The latest software version will be automatically distributed through the coDiagnostiX online update.
Many thanks to our user community for bringing issues to our attention helping us quickly identify root causes. If you experience any specific issues with our software, please contact us.